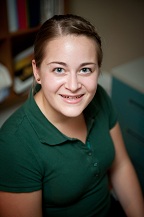 KW Massage Therapist, Ms. Jennifer Medeiros, originally from Nova Scotia, graduated in 2010 with Honours from the Canadian College of Massage and Hydrotherapy (CCMH) in Cambridge, Ontario. Competing at a National level for the sport of Badminton and her passion for Athletics, led her to pursue a career in Massage Therapy.
Continuing education will be an important part of Jennifer's future, as she will be attending courses and learning new techniques throughout her career for the benefit of her clients.
Jennifer is conscious of the fact that no two people will gain value from the exact same regime. Taking into consideration past health concerns, injuries, exercise and stress, a more successful assessment and treatment of these issues is facilitated for new and existing clients.
Ms. Medeiros' clinic is an open and accepting atmosphere offering an escape to unravel your mind, body and soul towards rejuvenating energies by providing a caring, professional atmosphere that is effective, yet respectful of each client's personal boundaries.